All our hydrotests include removal and reinstallation of your regulator. Most people, and even most paintball shops don't have the correct tools to do this to ASTM standards. We recommend you let us do it unless you have the tools and knowledge. We'll take your regulator off, set it aside, test your bottle and reinstall it.
Our regulator rebuild service includes disassembly of the regulator, cleaning it out and replacing O-rings. We'll replace the O-ring between the bottle and the tank, piston O-rings, and the fill nipple O-ring. These O-rings take the most abuse. They are on the inside of the regulator where you can't see them, so most people forget about them until it's too late. We'll also replace the set screws on the regulator as needed. After we're done, we'll check for leaks around the gauge and burst disks. We'll seal any leaks we find. We also check the regulator for output pressure and flow. If you have a desired output pressure for your regulator please let us know in the order notes.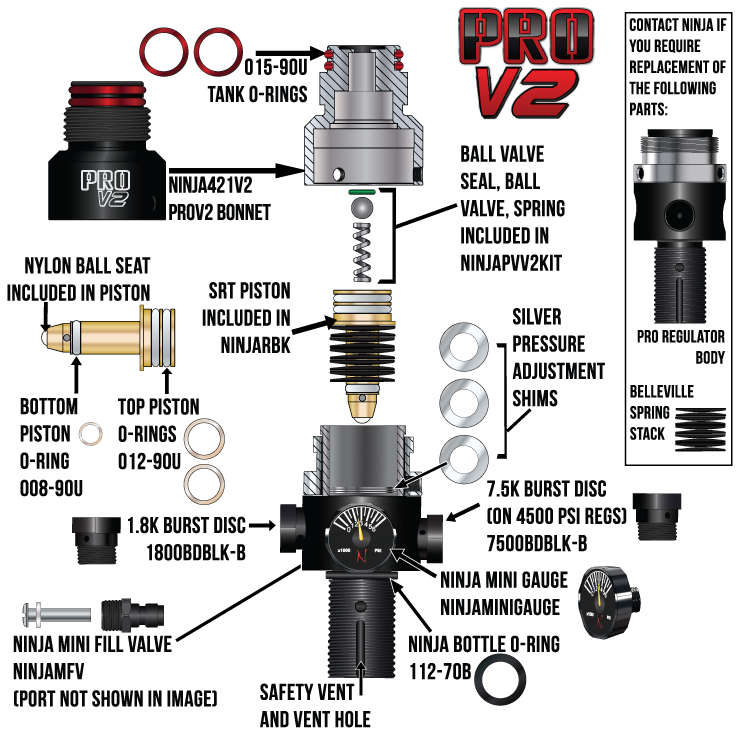 Our service doesn't include replacing gauges, burst disks, bonnets, and bonnet O-rings. A replacement gauge is $14.95-$21.95 and we're happy to replace it while we're doing the service, but it needs to be paid for separately. Bonnets are anywhere from $19.99 to $39.99. The internal bonnet O-rings for some of the bonnets isn't made anymore, luckily they seem to last forever. If we find an issue that's not covered, we'll reach out with a quote.
If you'd like any additional parts installed while we are rebuilding the regulator, just add them to your cart. If we see a new bonnet, or new gauge with your regulator rebuild we'll do it while it's on the bench. A failure in your regulator most likely will lead to a failure in your paintball marker. Replacing the O-rings every five years along with the hydrotest is a smart investment.
For a list of replacement regulators, and regulator parts check out our store at shop.hogansalleypaintball.com
Nick Morrione, Hydrotester